About
The Company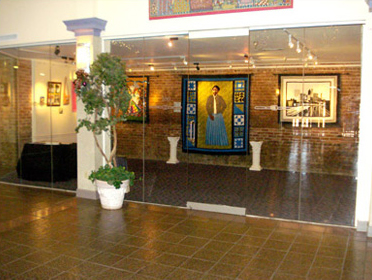 We offer an elegant touch of ancient traditional symbols mixed with modern quilt motifs. An array of bright colors distinguishes our quilts from many other covers. We celebrate color and incorporate it in our work.
Our quilts reflect the greatness of both our African and American experiences. Our quilts speak of our love for the golden sunrise of Africa, the brilliant orange of Caribbean Islands, the luscious hot pinks of Mexico and the reds of Peru.
Through our quilts we cherished the hiss of the soft blue-green ocean, the breeze on the grassy Nubian savannahs, the clear blue sky across the Kilimanjaro Mountains, the taste of the salty brown sands of the Sahara, the stately indigo of Southern India and the richness of Ancient Kush's deep purples.
The ancestors whisper in our ears and inspire us to create quilts that celebrate color and spirit.
The Artist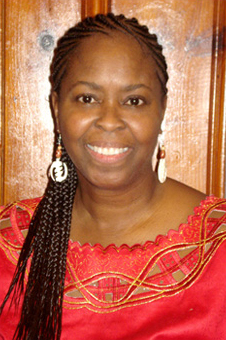 Aisha Lumumba was born in Georgia in a rural suburb of Atlanta, known as McDonough. She now lives in Atlanta, and has a passion for many artistic media. Ms. Lumumba's interest in art started at a very early age. She learned quilting by watching the elders make utilitarian quilts. Her first love was sewing and creating art projects with fabric which eventually led to quilting. She has more than 30 years of quilting experience, not only practical uses, but as a form of artistic expression. Writing and cooking are among her other artistic expressions.
Ms. Lumumba attended Georgia State University, "only to become a mediocre art major" in her words. She started a family with husband, Chinyelu Lumumba while still attending Georgia State University. He introduced her to books by and about black people that she never knew existed. With zeal and excitement she read every book she could get my hands on about black history. During this period of awakening, she changed her name from her birth name to Aisha. This awareness of the "black struggle" and black people's contribution to life (in Africa, America and throughout the world) added new meaning to her life and expression to her artistic desires.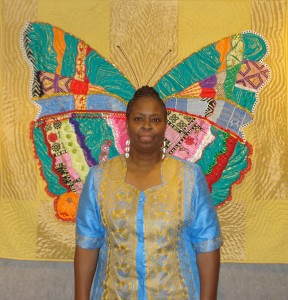 Ms. Lumumba states, "As a young child I saw very few positive images of myself and others that looked like me in media (print or visual)." As things changed in the world, and as pictures of African Americans came to the media, the pictures were more often than not degrading pictures. Ms. Lumumba set out to create self-affirming positive images of her people and their lives through her art.
So there you have it. Aisha Lumumba creates African American art. What a novel idea! She has appeared on TV One's Living With Soul, WSB's People to People twice, In Contact with Angela Robinson, and interviewed by various other media affiliates. She has published two cookbooks, a novel, and several quilt books. She was featured in A Time, A Season: A Visual Tribute to Oprah Winfrey spearheaded by Janelle Dowell, I Now Have A Ribbon by Ken Gehle, Artistic Expressions by Quilters of Color by Ebony Stitchers Quilt Guild, Cutting Edge Art Quilts by Mary Kerr and many other publications. She has installed Quilt Exhibits in many places, namely 5 consecutive years at The Atrium on Auburn Art Gallery Atlanta, Georgia; Birmingham Public Library Art Gallery Birmingham, Alabama; and the National Black Arts Festival Atlanta, Georgia. She has also exhibited in many quilt and art shows throughout the country: California, Alabama, Florida, North and South Carolina, and of course Georgia.
Ms. Lumumba is a very prolific, full-time artist possessing memberships in Brown Sugar Stitchers Quilt Guild, Black Art in America, and African Americans for the Arts. Her quilts are now a part of the private collections of many individual collections, including those of Ambassador Andrew Young, Mrs. Valerie Jackson, Dr. Stephanie Jolly, Ms. Brenda Banks, Ms. Woodie Persons, Ms. Jualynne E. Dodson, and President & Mrs. Barack Obama, as well as displayed in The Atrium on Sweet Auburn in the Oddfellows Historic Building located in Atlanta, Georgia.