Emag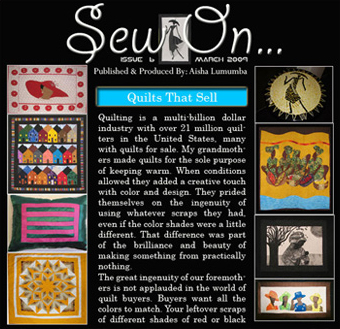 Sew On Magazine was originally created as a connecting vehicle for people who sew, who quilt and who love art. It has expanded to include lovers and collectors of quilts, sellers of fabrics and supplies as well as teachers of various arts.
Each month we promise informational and inspirational articles that will improve your skills and your health. We've added little tidbits and notes, A Block Of The Month and a monthly Events Calendar.
Enjoy the back issues and/or sign up to receive our free monthly issues.
View past issues below.
#1 | #2 | #3 | #4 | #5 | #6 | #7 | #8 | #9 | #10 | #11 | #12 | #13 |#14 | #15
FILL OUT YOUR E-MAIL ADDRESS
TO RECEIVE OUR FREE EMAG