by: Aisha Lumumba

African American quilting is said to be as old as the history of America. African American enslaved women were used for spinning, weaving, sewing and quilting on plantations and in other wealthy households.
Although it is widely believed that the quilt patterns used were those of upper class whites, the truth is that many African cultures were familiar with the geometric patterns used in the European quilting traditions. African Americans enslaved as household workers became highly skilled in creating these quilts.
The enslaved people had very little time left to sew for themselves, however, we do know they made scrap quilts or other bed coverings for their families. Unfortunately, those quilts have not survived to be studied today, which makes the absence of the physical quilts a problem. This absence led many historians to mistakenly conclude that enslaved African Americans did not make quilts.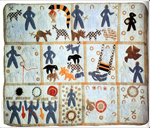 Many recorded accounts from enslaved people appeared before the Civil War, but "more than one-third are the result of the ambitious efforts of the Federal Writers' Project of the Works Progress Administration (WPA) to interview surviving ex-slaves during the 1930s. The result of these efforts was the Slave Narrative Collection, a group of autobiographical accounts of former slaves that today stands as one of the most enduring and noteworthy achievements of the WPA. Compiled in seventeen states during the years 1936-38, the collection consists of more than two thousand interviews with former slaves, most of them first-person accounts of slave life and the respondents' own reactions to bondage" says Norman R. Yetman in his introduction to the WPA Slave Narratives.
The WPA slave narratives also give us a glimpse into the value of quilts to the enslaved people and their families. One woman proudly told how her mother, "used to quilt the prettiest quilts you ever see...." Many lacked sufficient clothing and blankets with nothing left to make a quilt but others did make quilts even though they had little means.
The works of Eli Leon and Cuesta Benberry help us find quotes easily without having to read through all two thousand interviews. A few are listed below:
In de ginnin' time [marster] 'lowed de wimmen to pick up de cotton what drop on de groun' and make into beds, an' quilts an' comforts." –Harrison Beckett, Texas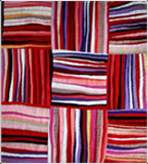 "Grandma…used to piece up a heap of quilts out of our old clothes and any kind of scraps she could get a hold of." –Martha Colquitt, Georgia
"I worked late and made pretty quilts… I worked nights to piece my quilts. Evva Christmas they'd give us a new calico dress and we'd piece up the old ones." --Elvira Boles, Texas
"We had big times at the quiltings and big eatin' afterwards. They would make two quilts a night and they were nice quilts too with hems and everything. The Nine Patch pattern was a beauty, with little squares no bigger than our thumb nail." --Lizzie Fant Brown, Mississippi
"They… had…big quilting bees, the men holding the lights and the women quilting, until all the quilts were finished. A big supper and dance for all the workers followed." --Dellie Lewis, Alabama
Contrary to the believes of many skeptics, enslaved African American people made quilts from whatever few resources they had available to them. They gathered together in secret and held quilting bees which were very much illegal at the time. And most of all they treasured the few things they could hold on to and quilts were among those possessions.